The 10 Best Cheap South Africa Volunteer Providers 2022
Are you planning to volunteer in South Africa, but unsure which provider to select? Now, you no longer have to waste time searching the internet and filling out dozens of contact forms. Simply fill out ONE form, we'll send it off to multiple providers and they'll contact YOU! You'll be able to compare rates and find the lowest cost program for the most affordable trip abroad.
Get Free Quotes From 10 Best Cheap South Africa Volunteer Providers
Are you planning on volunteer in South Africa? Are you open to reading about the most highly rated and affordable volunteering opportunities in South Africa, provided by trustworthy and credible companies?
South Africa is the southernmost country of the African continent. This multiethnic society has various religions, dialects and, of course, cultures. Volunteering in South Africa is an amazing chance to work with great African wildlife projects, or help children in orphanages. For people who are looking for an adventure-based volunteering and travel experience, South Africa is a great option. As well as witnessing the magical 'big five' of rhinos, buffalos, leopards, elephants and lions in Kruger National Park, there are also opportunities to dive with great white sharks at Hermanus, and more.
While visiting and volunteering in South Africa is an eye-opening opportunity, it can be quite daunting to find the best, safest and affordable provider. A quick search on the internet will have you overwhelmed as hundreds of volunteer providers will pop-up on your screen, all claiming to be as good as each other.
There are plenty of organizations offering South Africa programs with prices ranging from a several hundred to many thousands of dollars, excluding flight costs, insurance and visa fees. It could take you several weeks just to compare different volunteering providers. Furthermore, if you make the wrong choice, you risk either paying much more than you need to, or paying for a sub-par or even dangerous experience.
This is where we come in. At TravellersQuest, we don't want to see you paying super high costs for South Africa volunteering program and potentially ruining your experience. We want to see you joining a reputable, safe and affordable volunteering program in South Africa where you can be sure to create impact and make a real difference in the country.  
So, we did the hard work for you. We spent hundreds of hours researching, and finding the best and safest volunteer providers for you.
Our research teams went through hundreds of volunteer opportunities in South Africa and narrowed it down to ten of the best, in terms of being both inexpensive and still highly rated. Want to hear more?
Keep reading to discover the 10 Best and Cheapest South Africa Volunteer Providers 2020 that are some of the highest rated companies of the world.
Table updated: May 19, 2020
International Voluntee HQ(New Zealand)
Location: New Zealand
Established: 2007
No of Volunteers: 112,000
Location & Projects: 42 countries over 200 Programs
Awards and Recognition: Certified B Corporation, Member of the Volunteer Groups Alliance (VGA)
Have you ever heard of International Volunteer HQ (IVHQ)? The organization was founded in 2007 in New Zealand and has more than 42 volunteer abroad destinations all over the world, including in South Africa. Their target is to develop the education and knowledge of people in developing countries. They give an inexpensive opportunity for volunteers to share their knowledge and skills with other people traveling abroad.
At the same time, volunteers will get new friends and knowledge about new places and cultures. They not only have educational projects, but also other projects to help solve each country's problems. International Volunteer HQ is well known as a trusted, innovative and affordable volunteering organization. They provide affordable trips, because of their close relationships with local organizations in each country.
Let's have a look at the programs in South Africa that IVHQ offers.
IVHQ Program in South Africa
IVHQ offers volunteers the opportunity to choose anywhere between 1 to 24 weeks for their inexpensive volunteering experience in South Africa. IVHQ require volunteers to be 18 years or over in order to participate unless they are with their parents or a guardian. IVHQ also requires adequate volunteer travel insurance, as well as going through a criminal background check with the local team of IVHQ upon arrival to South Africa.
Every month, IVHQ sends between 20 to 50 volunteers on a project, so there are lots of volunteer opportunities in South Africa to meet others from various cultures, alongside extra staff support, lower costing projects, plenty of people to travel and socialize with, as well as a stronger infrastructure for volunteers. This sets one up for a tremendous volunteering experience.
Teaching (Muizenberg)
If you're able to teach a certain subject, say English or math, this might be the program for you. There are three public schools in Muizenberg, and volunteers will work in any one of them to support students as they study. To join this volunteer teaching program, volunteers need knowledge in any one of the following subjects: mathematics, the English language, life skills, social studies, different types of art and physical education.
Sports Development Muizenberg)
This volunteer in South Africa sport development program is a perfect opportunity for the sports personality. Children from grade 1 to grade 7 in South Africa are waiting for volunteers like you to teach them physical education lessons and if you have experience playing one particular sport, such as soccer, this will also be of great help. Volunteers will be responsible for creatively planning and delivering sports lessons to the kids
Surf Outreach (Muizenberg)
The Surf Outreach South Africa Volunteer program is actually an organization in Muizenberg that was originally created in conjunction with a surf school upon the beachfront of Muizenberg. Surfing happens to be a great way for kids to switch off from worries and connect with the present moment, and nature.
After school children need organized activities and surfing is a great choice. This project involves volunteers working with kids aged between 9-15 years old. These teenagers are from disadvantaged backgrounds, so they need good role models. If you are someone who can surf well and are prepared to teach, this could be the program of your dreams.
Childcare (Muizenberg)
If you are someone who has a knack for taking care of young children, you should consider this program. There are many day care centers in Muizenberg for kids from poor and broken families that are in need of support.
South Africa childcare volunteers will be placed there to support these kids because many of them lost all relatives, and some are suffering from HIV/ AIDS and other problems. Through caring for these children and being with them, volunteers will help in so many ways. Would this be of interest to you? 
Computer Training (Muizenberg)
If you are someone who has some computer knowledge and ideally some sort of certification that demonstrates your capabilities, it's possible for you to join this computer-training program that is so beneficial for many. During school holidays or as additional training, many kids in South Africa will be happy to take computer lessons and learn some simple skills. Also, volunteers will open a new world of opportunities for children by teaching them how to use the internet.
Other Opportunities to Volunteer in South Africa
Have you seen anything you like so far by IVHQ, or even any of the other providers outlined above? If not, there are some pretty cool programs by IVHQ that we still haven't mentioned yet. There is the Holiday Club in Table View program, a community development initiative designed to keep kids engaged during their school breaks with fun games and activities, perfect for the person who loves kids.
Another great South Africa volunteer opportunity if you enjoy working with kids is the Kindergarten in Table View program, where you'd be volunteering in kindergartens in low-income communities in order to increase their access to education.
Sports fanatics and teachers of physical education could also try the Sports Development in Table View or even the Surf, Skate and Swim in Table View, both great options for those who enjoy the great outdoors.
Reviews
IVHQ is highly rated volunteer abroad organizations offering program in South Africa. The organization has hundreds of positive reviews from volunteers from all over the world. The biggest pleasure for volunteers was to see the eyes of happy children whom they had helped through sharing their knowledge and skills.
The experience that they got during affordable volunteering in South Africa program opened many doors for the future. Volunteering certainly changes one's life goals, a reason why many do it; also the teaching experience meant they were able to use innovative techniques and tricks. The most important point volunteers' note is that they made new friends, and those relationships have lasted.
I spent two weeks with IVHQ and I don't regret my decision: this was the best trip of my life. Finally, the IVHQ team is perfect…- Julie
Read more reviews at Abroad Review and Go Overseas and go abroad and volunteer forever.
The Fees
IVHQ offers cheap but highly rated volunteer in South Africa programs. The program fees are set based on the destination and the length of stay. All IVHQ program fees are divided into the following fees, a refundable application registration fee which is $279 USD, refundable if the volunteer decided to not go and the nominal weekly fee for all programs that start from $250 per week. In terms of South Africa programs, IVHQ actually offers the most affordable out of all the programs listed, starting at $699 USD for two weeks, which is a great rate.
Volunteers who participate in a South Africa volunteering experience need to cover additional costs for a visa, criminal background checks, travel insurance, in-country trips and tours, vaccinations, flights, transfer back to the airport, souvenirs, and any additional spending money (about $30 per week in South Africa).
The nominal weekly fees will include airport pick-up, meals, accommodation, program supervision, orientation, in-country 24/7 volunteer support, and in-country administration costs.
Why We Chose IVHQ
This provider is included in our list because it is distinguished by its years of experience and the training process they offer volunteers before starting on any of their volunteer trips in South Africa. IVHQ is also very affordable with programs starting as low as $ 279 that all offer life-changing experiences.
RCDP Volunteer Abroad
Location: USA
Established: 1998
No of Volunteers: 18,000
Countries & Projects: 19 countries and over 200 programs
Credentials: Partnership with AIDCamp, UK, Partnership with YETI, USA
RCDP Volunteer Abroad is an organization with a long history as it was registered way back in 1998. The organization mainly focuses on aiding and helping out in underfunded schools and orphanages, as the team believes that working to help children leads to the best in long term results.
Every year RCDP sends thousands of volunteers all over the world to help community in need. They have built many orphanages and schools, and these days offer volunteer service opportunities on three continents, including Africa.
Some programs are based on partnerships with other respected organizations and universities in the UK and the USA. Let's take a look at RCDP's amazing programs in South Africa.
RCDP offers highly inexpensive volunteer opportunities, which include helping in fields such as teaching, orphanage, sports, healthcare, and conservation. All projects are located in Cape Town, one of the largest cities in the country and run for a minimum of 2 weeks and of maximum 12 weeks.
Underprivileged children program
Are you someone who has boundless energy and a deep love for taking care of children? Most of the care centers in South Africa are short of volunteers' help and funds. In this underprivileged children program you will help children with their homework, organize dance and activities, songs, and games, do some cooking and cleaning at the care centers itself and, if possible, do some fundraising for the orphanage to aid in its future development.
Teaching (Cape Town)
Have you always wanted to visit Cape Town, South Africa? Don't let the chance pass you by! As schools in many areas in Cape Town are understaffed and underfunded, the country is in a need of volunteers. As a volunteer English teacher, your workday lasts around 2-3 hours from Monday till Friday.
Teaching English volunteers in South Africa are able to choose their preferred age range of the students they would like to teach. In kindergarten, volunteers can play games, teach new skills and introduce letters and numbers. In schools, the work includes teaching subjects such as English language, science, and math.
Sports (Cape Town)
Do you love sports? Are you a soccer fanatic? If a volunteer has soccer or basketball skills, they'll love this sports program, which focuses on getting kids physically fit. Volunteer in South Africa on this placement and you'll help to organize outdoor activities and games, train kids, and share information about healthy living. Volunteers with management skills can help with the administration of the schools.
Conservation (Cape Town)
Conservation volunteer opportunity in South Africa is important to South Africa, a country known for its dramatic landscapes, Table Mountain, abundant wildlife and various reserves. To help preserve one of the most beautiful places in the world, volunteers can work on creating brochures for fundraising, counting birds, checking the health of trees, clearing paths, removing vegetation and much more.
Healthcare (Cape Town)
While the healthcare system is fairly developed in South Africa, there are still not enough staff in the field to provide medical help to everyone. As a result, volunteers are needed to help increase people's access to healthcare. Healthcare volunteers in South Africa will work with trained staff to help reduce the number of endemic diseases, measure BP, height, weight and temperature and assist medical staffs with health-related tasks, such as dispensing medications, counseling patients, immunizations and treating minor injuries.
We have listed all the possible programs you could do with RCDP in South Africa, did any of them grab your attention? Would you consider any of these?
Reviews
RCDP offers highly rated South Africa volunteering programs. There are hundreds of volunteer reviews about RCDP Volunteer Abroad programs, with an average rating being between 9 -10 out of 10. All of them note that the RCDP team provides affordable programs in South Africa, delivered by professional, friendly and constantly supportive staff.
I'm Marc, and I traveled expecting a life changing experience. There were many other volunteers whom were helpful and very welcoming to my ignorance of traveling alone…Marcdkeok
Read more reviews at abroad review and Go Overseas.
The Fees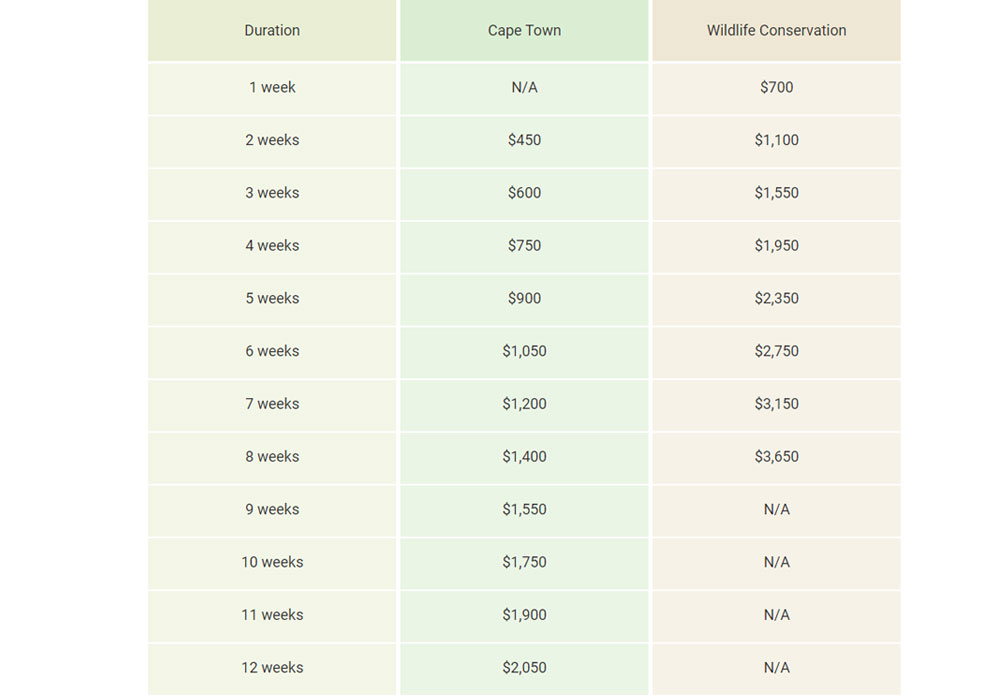 RCDP has considerably low cost volunteering opportunities in South Africa and they are striving very hard to keep the costs low. The required program fee often depends on the length of volunteering trip as well as the destination. RCDP's price for its South Africa programs starts from around US$729 for 2 weeks, and this includes the application fee and administrative costs associated with the program. Volunteers in South Africa program pay fees directly to host families and projects to make sure that what they pay will go directly for people who deserve it.
Why We Chose RCDP
We selected RCDP as best provider programs based on their reviews online that show many satisfied past volunteers. Besides years of experience offering programs in South Africa, RCDP is very affordable with programs starting as low as $299 for two weeks.
IFRE Volunteers (USA)
Location: USA
Established: 2006
No of Volunteers/Interns: 22000+
Location & Projects: 20 countries, over 200 programs
Recognition: Registered as a 501(c)3 non-profit
If you are serious about volunteering, this company should 100% be on your radar. IFRE offers low cost volunteer opportunities in South Africa. Since being founded in 2005 in Texas, USA IFRE Volunteers have organized more than 17,000 volunteer placements in over 200 projects worldwide, across 18 different countries in total. Their cheap prices and insistence on fees being paid directly to the project or host family creates a great level of confidence amongst potential volunteers.
Let's cut to the chase and jump straight to the South Africa programs IFRE offers. Are you ready?
IFRE organizes volunteer programs to help both children and adults in need in order to help improve their lives in some way. To meet these goals their projects mainly focus on basic needs such as education and health.
IFRE programs all have an orientation period, which is important as it allows volunteers to be fully prepared for life in a different culture. All of IFRE's programs run for a minimum of two weeks, with the maximum stay allowed being sixteen weeks. This gives volunteers ample time to make a difference.
Childcare (Cape Town)
Are you someone who has a deep love for children and an unending amount of enthusiasm and a willingness to make people smile? Volunteers in this childcare volunteering program in South Africa will work with abused children and orphans, care for physically and mentally challenged people of all ages, and work in safe houses helping kids and women in South Africa. The orphanage project is not available in December because many orphans are with foster families at this time.
Teaching (Cape Town)
Volunteers will work in the kindergarten, primary, or secondary schools. The nature of the work depends on the level of teaching. For instance, in the program for Crèche/Pre-school/Kindergarten program, this involves caring for younger children and teaching kids that are aged up to 6 years old. Volunteers interested in helping out at primary schools will assist teachers in the classroom, and even have the opportunity to teach a class of their own. Those volunteers who have skills in art, music and sports may also give additional classes to kids if they so wish.
If you are a volunteer looking to teach at a secondary school? Volunteers on this teaching English volunteering trip in South Africa can also choose to help provide students aged 14-18 years with the resources they need for a good education, making them more successful in the future. Those volunteers who have music, art, and sports skills can contribute to the schools recreational programs, making learning more interesting and fun for the students.
Physical Education (Cape Town)
Are you someone who knows a lot about sports, health and fitness? Check this Physical Education Program! Volunteers will be placed in a coaching position at a local school or work at a soccer camp in the area. Their responsibilities will involve helping with basic sports coaching and fitness training, promoting a healthy lifestyle awareness program, and organizing team building exercises.
Healthcare (Cape Town)
Are you a healthcare or medical student looking for some more experience to add to your repertoire of skills? In this medical volunteer in South Africa, volunteers work in local clinics, where they can help with HIV/AIDS awareness programs, dressing wounds, measuring blood pressure, pulse and temperatures and help patients get from one service point to another. Other opportunities involve working on local awareness programs.
Other programs in South Africa
Did any of the programs mentioned above interest you? If not, don't fret. IFRE has a few other programs in South Africa worth considering. If you're someone who wants to learn about children living with special needs, and you want to do so in Cape Town, you should 100% check out IFRE's Social Welfare Project (Cape Town).
Here you will be involved with directly helping to improve the lives of South African children living with autism or physical disabilities. Or if that's not up your alley, how about taking a look at IFRE's volunteer South Africa wildlife in Port Elizabeth? Volunteers here would be directly involved with conservation initiatives, especially for the big 5 animals the African continent is known for.
Reviews
IFRE offers one of the best volunteer programs in South Africa, and consequently have many positive alumni reviews. They like the affordable volunteering opportunities, open-minded and friendly homestay families and how the experience changed their life.
I used IFRE to connect with Volunteer opportunities. I was fully satisfied with the placement and the flexibility of the program…Justin L
Read more reviews at abroad review and Go Overseas.
The Fees
IFRE offers very low cost but highly reviewed South Africa volunteering programs, and their program fees are tax-deductible. Costs depend on the length of stay and the trip destination. IFRE's South Africa program fee starts from as low as US$749 for the first two weeks, and this includes the application fee and 3-days orientation fee that includes a language and immersion program, and the weekly fee that goes to the host country.
The good news is volunteers pay fees directly to host families and projects. The weekly fees include food and accommodation, the cost of local tourist/sightseeing sites, language and cultural training, training materials, the cost of recreational activities, as well as comprehensive travel insurance ($3.49/day). Also, their volunteers will get $50 discount of future volunteering programs with IFRE.
Why We Chose IFRE
IFRE was an undeniable winner because of its cheap volunteering trips in South Africa prices and its unrelenting insistence on fees being paid directly to the project or host family. This undoubtedly has created a great level of confidence amongst potential volunteers, especiall when they read the excellent reviews online left by past volunteers.
Love Volunteers (New Zealand)
Location: New Zealand
Established: 2009
Location & Projects: 38 countries over 100 projects
Love Volunteers is an affordable volunteering organization, was founded in 2009 in New Zealand. This volunteering organization is one of the cheapest organizations running volunteering work opportunities in South Africa, as they don't have such expenses as a downtown office or company cars.
Their focus is to help people be able to help others and to contribute to the development of poor countries. Also, they regularly communicate with local organizations all over the world to reduce internal expenses for volunteers. The number one priority of the organization is safety. That's why they work close with the local country's security services.
They organize projects such way that volunteers have not only work time, but also time for rest to make new friendship relationship and to know better the country they are visiting. So, let's take a look at Love Volunteers' programs in South Africa, shall we?
Love Volunteers offers an outstanding and affordable South Africa trip especially in Cape Town and Port Elizabeth, for volunteers that are over 18 years old who also speak fluent English. Volunteers will encounter unfamiliar ways of speaking, thinking, and also interacting, which means that they will constantly absorb the culture and customs of South Africa. The program length is ranging between 2-24 weeks, except the volunteer South Africa wildlife Program, which ranges between 2-8 weeks length.
Health (Cape Town)
Are you a healthcare or medical student looking to gain some further experience in South Africa? Do you want to make a difference while you're visiting the country? Volunteers on this medical program undertake routine tasks such as dressing wounds, taking temperatures and weighing patients, and may also get involved in awareness sign programs.
Social Welfare (Cape Town)
Are you someone who is extremely positive, and who has a lot of energy? Are you often the person who lights up the room they enter? Then get sharing your positive energy! Do so in this volunteer in South Africa social welfare program that encompasses projects in the areas of orphanages, abused children, and is homes for the physically and mentally challenged. Kids in South Africa, the same, as all over the world need someone to listen to them, hug and show real care and attention. This project requires volunteers to be 21 years old or more and is suitable for couples.
Education (Cape Town)
Are you passionate about education and passing on valuable knowledge to the younger generations? On this education volunteer project in South Africa, volunteers assist teachers in educational institutions such as primary or high schools, (or if working with younger kids is preferred they can help in pre-primary and crèches.) Thanks to previous donations, there are a number of computers available the children. Volunteers working with younger children will help feed and entertain them.
Environment Conservation (Cape Town)
Are you someone who is passionate about saving the environment? Do you know how you can make a difference?gar Enroll on this project today! The main goal of this environment conservation South Africa Volunteer program is to educate the younger generations on how-to preserve and care for their environment. Secondary tasks may involve gardening, physical labor and general outdoor work, as well as construction.
Wildlife Protection (Port Elizabeth)
Are you someone who simply enjoys and flourishes in the great outdoors? Wildlife conservation volunteers in Port Elizabeth will be placed in fully-furnished staff housing. The duties may vary on a day-to-day basis, and will depend upon multiple factors such such as the weather. Volunteers can enjoy the beautiful nature of South Africa because the work will mostly be located in the open air, and will include monitoring and tracking wild animals, mending fences, removing alien vegetation, animal counting, and even animal feeding. While on this wildlife volunteering program in South Africa, you can also work in the elephant sanctuary,  accompanying and assisting the guides who work there.
Surf and Adventure (Cape Town)
Are you a good surfer, or wanting to learn? Then have we got the dream of a program for you! In this surf and adventure program, you will work with underprivileged children out of the settlements and off the streets and teach them different life lessons through sports, teamwork, adventure activities, and, of course, educational classes. The work time is 3-5 days in a week when volunteers will help children. The schedule is quite relaxed, for example in the mornings volunteers can learn to surf, help in a school or just relax on the beach, and then in the afternoon for 3 5 days a week they teach the children.
Sports Development (Cape Town)
Are you someone who is deeply passionate about sports, and you're super sporty too? Wouldn't you like to share you passion? Volunteers on this sport development program will be involved in coaching young people at primary school level in sports and fitness training. If the volunteer has team building knowledge or experience in the promotion of healthy lifestyle they can share this while volunteering in South Africa. As physical education has only recently been introduced in the schooling system, most schools have very limited equipment, so if you can, bring your own equipment.
Reviews
The organization has 96% positive reviews on their volunteer opportunities in South Africa. Previous volunteers note that they got great experience for their future career in the educational or medical field. They also said that Love Volunteers team was always open for any questions and had professional and detailed answers to offer, and especially the volunteers liked the kids' reactions to the volunteers help, all of them were friendly and thankful.
It was overall a good experience. Everything came together and was an excellent learning experience. It was challenging, but I wasn't looking for anything easy. I recommend for someone who is brave and looking for a challenge. I learned a lot about myself and the country. - Adrienne
Read more reviews at go abroad and Go Overseas and volunteer forever.
The Fees
You will pay Love Volunteers an affordable registration fee of only $249, which is valid for 12 months. They have kept their overheads down to ensure volunteers pay the lowest possible fees. Their affordable weekly fees for volunteer program in South Africa start from $390 for 2 weeks, except the Wildlife Program, which costs $920, and the Surf and Adventure Program, which is $750.
The program fees cover food, accommodation, transport, orientation, and in-country support staff during the placement. Volunteers are supposed to pay for their own flights, visas, travel insurance, and vaccinations, as well as bring some spending money. Additional requirements include travel insurance and a criminal background check, which are necessary for all volunteer in South Africa programs.
Why We Chose Love Volunteers
We selected Love Volunteers because they focus on helping volunteers to contribute to the development of poor countries. Also, they regularly communicate with local organizations all over the world to reduce internal expenses for volunteers so that you can achieve maximum value with your money.
Global Crossroad (USA)
Location: USA
Established: 2003
No of Volunteers: 20000
Location & Projects: 20 Countries, Over 200 Programs
Registered in Dallas, Global Crossroad is a volunteering organization that was founded in 2003, and they have some pretty affordable South Africa volunteer opportunities worth taking a look at. From the 23 volunteers placed in the first year, their initial program grew to 600 the following year, and in 2005, the organization offered 20 different placements across Latin America, Africa, and Asia.
One of the main missions of the company is to ensure that the programs that the volunteers work on remain sustainable and have high value, in addition to providing culture immersion opportunities to volunteers via language, cultural programs, and an affordable way to travel around the country.
Let's take a look at Global Crossroad's programs in South Africa, shall we?
Global Crossroad offers highly flexible programs and affordable volunteering work in South Africa from 2-12 weeks, and can be extended in some countries where there is the option of taking part in more than one project in a single country. The main focus is  on helping underprivileged children and women, and  supporting healthcare and education projects.
Underprivileged Children (Cape Town)
Are you someone who has an endless amount of energy and genuinely loves taking care of children? In this underprivileged children program, volunteers work with abused children and orphans, and in safe houses for women and children. The main role of volunteers will be to feed and play with kids, help them with homework, tidy up the orphanage, and other related activities.
Teaching (Cape Town)
Are you someone who loves teaching, or wants to? In this teaching English South Africa Volunteer program, volunteers will be working with children of all ages, and duties undertaken vary depending on the placement. If you want to be involved at the kindergarten and pre-school level, you'll be volunteering in kindergartens and take care of children aged between 3 to 6 years old. This may involve preparing and serving food, making learning aids and playing with them.
Or perhaps you'd want to volunteer in a  primary school? Volunteers in these schools will assist teachers in different classrooms and teach a class on a subject of their own choice. Volunteers with additional skills in music, art, and sports can introduce these recreational activities to the students. In this program, there is also the opportunity to volunteer at secondary school levels. Here, volunteers will teach teenagers between the ages of 14-18. In this South Africa volunteer program, you will assist the teachers in different classrooms, sometimes they may need to teach their own class without any supervision.
Healthcare (Cape Town)
Are you a pre-med student looking to advance your medical skills? South Africa Medical Volunteers join a team of other volunteers and staff to help on HIV/AIDS awareness programs, help nurses dress wounds, weigh patients and help deliver health education programs to local communities. On this medical volunteer program, volunteers must have either medical related experience or be a student in this field.
Physical Education (Cape Town)
Do you love sports? Are you a health and fitness fanatic? Would you share your enthusiasm with young kids? Volunteers on this physical education project will either be placed at local schools in a sports coaching position, or at one of the soccer camps in the area. They will help with basic sports coaching and fitness training, help promote the healthy lifestyle awareness program, and contribute to team building exercises.
There are all the South Africa volunteer opportunities available in South Africa that are organized by Global Crossroad. Did you like the sound of any of them?
Reviews
The organization has had hundreds of letters and emails outlining the positive experiences of volunteers who consider this a highly rated and affordable volunteering trips in South Africa.
Volunteers with Global Crossroad note that the team was responsive to questions during all steps of the journey, and many commented that they got more than they could have ever expected from the trip. Volunteers also liked the rage of opportunities and the accommodation, meal, and guides provided.
I plan on going back this year! The support from the company was exceptional. They provided transportation to and from the airport…-Savannah
Read more reviews at Abroad Review.
The Fees
Global Crossroads offers cheap volunteer in South Africa programs and every effort is made to maintain these low prices. Programs last for anything from 2 - 12 weeks, with the exception of 16 week SurfPorject. The South Africa program fee start from US$749 for 2 weeks, and this includes the application fee and the weekly program fees.
The weekly fees cover main meals, accommodation, the cost of in-country coordinator, pre-departure information, a certificate of completion, and fundraising ideas.
The weekly fee doesn't cover the mandatory comprehensive travel insurance, which is $3.49 per day, the Language and Culture program fee ($250), airport pick-up or drop-off, visa, airfare, entry fees, airport tax, personal expenses, daily transportation, and soft drinks.
Why We Chose Global Crossroad
Global Crossroad ensures that the South Africa volunteer experience remain sustainable and have high value, in addition to providing culture immersion opportunities to volunteers via language, cultural programs, and an affordable way to travel around the country, this organization is affordable with years of experience in the industry.
Frontier (USA)
Location: UK
Established: 1989
No of Volunteers/Interns: volunteers of more than 30 nationalities take part in projects
Location & Projects: 70 countries over 400 programs
Recognition: Only gap year organization to offer BTEC qualifications, trained over 600 host-country university students, fisheries and forestry officers, community representatives and teachers, produced hundreds Biodiversity Research
Frontier is one of the longest-serving volunteer providers in the game and definitely one you should consider if you are ever thinking of volunteering abroad, especially in South Africa. Established in 1989 as a non-profit conservation organization, Frontier has been one of the main players in creating quality volunteer programmes across the globe.
Frontier's very first projects started in Tanzania as a partnership with the WWF to create the world's first successful multi-user marine park in a developing country, a marine park which volunteers still work in today and one that shows Frontier's aim of creating long lasting and sustainable results. Since then, Frontier has grown to run over 400 capacity building conservation, community and adventure projects in more than 60 countries spanning 5 continents.
Frontier has some fantastic volunteer in South Africa programs. Are you ready to take a look at some of them? Let's go!
Top Programs in South Africa
South Africa Wildlife Conservation
Are you a known animal-lover and super passionate about animal rights? Would you be interested in helping to support and protect some of the wildest animals of the world, the notorious big 5?
In this once-in-a-lifetime South Africa Wildlife Conservation Volunteer Opportunity, you'll have the chance to work within a game reserve in South Africa that's home to Africa's Big 5, the lion, elephant, buffalo, leopard, rhinoceros. Your daily tasks would involve maintenance around the reserve as well as helping take care of the big cats and their rehabilitation. This is a guaranteed good time and hugely rewarding.
South Africa Baboon Orphanage Adventure
This Baboon Orphanage Adventure is such a unique volunteering trip to South Africa that it would be a real shame to let it pass on by. In South Africa, it is a sad fact that many habitats are being destroyed as increasingly wild land is being turned into farms, towns and cities, and well, humans are taking over. Because of that, there are many baboons who actually end up getting hurt, injured or traumatized. In this rehabilitation center, these baboons are looked after, nurtured, nursed and cared for before they are released back into the wild. Would you consider this program?
South Africa Sports Coaching
South Africa, known for its love of rugby and soccer amongst other sports (it did host the 2010 FIFA World Cup if you recall), is one of the best countries you could share your own love of sports. Physical exercise is an incredibly beneficial way to work through a lot of things in life, and is super important for mental health, so to be able to teach that to kids is truly inspiring.
In this sports coaching South Africa volunteer program, you'd be involved with coaching children from disadvantaged backgrounds, working closely with sports academies to provided structured training for South Africa's upcoming sportsmen and women. If you think you would be a good sports coach, why not try this?
South Africa Elephant Sanctuary
Are you an animal lover? Have you always wanted to meet an elephant, and spend time with it? In this amazing elephant sanctuary volunteer program in South Africa by Froniter, you will be directly caring for the South African elephant as you make valuable contributions to conserving one of the most beautiful animals on the earth. This is a great way to get to know the rainbow nation of South Africa much better, and you'll leave knowing you truly did do something right. Daily activities will revolve around helping the staff care for the sanctuary's resident elephants.
Other programs
Have you seen any programs you like by Frontier so far? Don't sweat it if you haven't, there's still a few more volunteering opportunities in South Africa for you to look at. Volunteers like you might want to get involved in the South Africa Orca Conservation project, a fantastic marine conservation initiative while discovering South Africa's renowned Garden Route. Or perhaps you wouldn't mind working in a zulu community helping to support those less fortunate – if so, why not try Frontier's South Africa Zulu Community Project and Adventure?
Frontier is really known for its animal-focused programs in South Africa, a great thing to know if you're someone who is really keen on doing volunteering that involves animals and wildlife. You could also look into Frontier's South Africa Kruger Wildlife Sanctuary project, the South Africa Primate Sanctuary program, or the South Africa Horse Adventure program.
Reviews
Frontier is one of the oldest and best-serving volunteer trips to South Africa providers of all time. They get good and glowing reviews fairly often. 88% of reviewers on Go Overseas gave Frontier a 10 out 10 rating. Furthermore, on Go Abroad, Frontier received an 8.81 out of 10 rating. Albeit not as high as some of the other providers, Frontier's review status is still impeccable. See this positive review below:
The Fee
Frontier's volunteer in South Africa program fees are affordable, and just a little higher than the providers listed so far, but not by much. For a 2-week period, programs in Africa start from around US$805. The price your paying includes accommodation, 3 meals daily for 5 days per week, transfers during the program's working hours, in-country emergency support and 24-hour international HQ back-up.
Why We Choose Frontier
Frontier is hands-down one of the best South Africa volunteering program providers out there for those thinking of volunteering. The programs are well put together and affordable, and we love Frontier's extensive focus on conservation and animal welfare programs. Go Frontier!
GO Eco
Established: 2006
No of Volunteers: 17000
Location & Projects: 42 countries over 160 programs 
Awards and Recognition: Top Eco-Enthusiast in 2017 by Greenmatch, 2018 Top Volunteer Abroad Organization from GoAbroad, endorsed by the United Nations
GoEco is the best and a leading eco-tourism company with over 150 extraordinary community, wildlife and environmental initiatives all over the world. Started in 2003, Go Eco hosts over 1000 volunteers each year offering diversified and impactful programs ranging from local community groups to renowned global organizations. All of the projects are carefully vetted to ensure every volunteer experience is safe and impactful.
Go Eco South Africa Volunteering Opportunities
South Africa - Wild Cat Sanctuary
On this Wild Cat Sanctuary Project, your main tasks will be promoting the health and welfare of all the animals living on the grounds. You will be working with a variety of animals including 42 predators and two monkeys – the predators include: 4 cheetahs, 20 lions, 4 caracals, 2 servals, 1 African wild cat, 2 black backed jackals, and 9 bat-eared foxes. You will be taught how to care for each animal as they all have different needs.
South Africa - Teach, Surf and Skate in Cape Town
This teach, surf and skate volunteering in South Africa project aims to teach underprivileged children valuable life lessons and skills, such as leadership and teamwork, through sports and adventure activities, specifically surfing and swimming (no previous surf experience required!). The project hosts an adventure club for 12-14 year old children who come from disadvantaged areas of Cape Town, where facilities and equipment for outdoor activities are not readily available to them.
South Africa - Cape Town Community Projects
In this community project, Volunteers will be placed in one of seven schools in the community. Six of the schools are pre-schools for children from 1 – 5 years' old who speak Xhosa or Afrikaans. The pre-schools focus on early childhood development and preparing the children for regular schools by teaching Basic English and cognitive skills. The other available placement is at a farm school for grades 1 – 7 where you'll be assisting with older students in their school programs.
South Africa - African Wildlife Ranch
If you are someone who is passionate about the great outdoors, then this program is for you. This wildlife conservation volunteer program in South Africa will give you a fascinating wildlife experience while you learn about the facility's conservation efforts. You will also gain insight and knowledge into the ranch's endangered species and breeding programs.
Reviews
Past volunteers praise the welcoming people of South Africa, including the learning attitude of the children, who are happy to learn from local South Africans. Reviews include comments like "highly recommended" "high value program" and "highly impactful program." from Go Overseas at 9.4/10 and 9.8/10 on Go Abroad. Read reviews:
The Fees
Go Eco offers affordable volunteer in South Africa programs. The fees cover housing, food, and training. The fee is $1,200 for two weeks and $1,700 for four weeks
Why We Chose Go Eco
This provider topped the top 10 providers because of the affordable prices of its programs and the professionalism applied by local staff in the field. If you are looking for an organization that is unique with high standards then you are in the right curve.
African Impact (Zimbabwe)
Location: South Africa
Established: 2004
Location & Projects: 7 countries over 50 programs
Awards and Recognition: Innovation in Philanthropy
GoAbroad Foundation – 2019, Innovative New Intern Abroad Program
GoAbroad – 2019, Top Rated Volunteer Organization
GoAbroad – 2019, 2018, 2017 & 2016, Outstanding Volunteer Project
Global Youth Travel Awards – 2017 & 2014
African impact is an award winning volunteer abroad company running affordable volunteer programs in South Africa. African Impact started as a small, family-run organization in 2004 in Zimbabwe. With more than 10 years of experience in affordable volunteering, currently African Impact offers projects in 13 different destinations in Africa, and has up until now hosted over 13,000 volunteers abroad.
Their aim is to help people in Africa, and to promote this continent as a traveling destination with many unique cultures. The company is proud to have won many industry awards, including recognition for their sports, Cape Town Teaching, and Vulnerable Childcare Volunteer programs.
Let's take a look at African Impact's programs in South Africa.
African Impact offers volunteers more than 37 different low-cost programs in South Africa, and each begins with an orientation program, which introduces volunteers to the beautiful scenery, culture, customs and wildlife of South Africa. Placements vary in length depending on the project and the destination.
African Impact South Africa Volunteer Programs
Teaching and Community Development (Cape Town)
This Teaching and Community Development Program is a good opportunity for someone looking to make some real difference in the community and sharing useful knowledge. Volunteers on this teaching project will spend time planning for each lesson and creating resources, so the children have a very interactive, fun and educational classes. Other tasks include developing the student's reading skills and providing health education classes on HIV awareness and prevention.
African Big 5, and Wildlife Conservation (Greater Kruger Area)
If you're someone who is fearless and willing to be challenged, then perhaps consider this opportunity. Volunteers with these South Africa big cats will focus their attention on the African Big 5'. Daily tasks include data gathering and processing on the behavior of these animals and their movements. You'll be volunteering in South Africa on an animal conservation project that will offer a variety of hands-on experiences, such as maintaining waterholes and clearing alien plant life from the area.
Sports Coaching and Development (Cape Town)
Sports Coaching and Development Program is a good option for those who love sports and feel they can teach it, or for those who have already taught it before. As a volunteer in South Africa, you will help coach physical education sessions at schools and organize sports classes, and think of new approaches which will engage children to pursue physical activity. These may include organizing competitions, games and fitness tests. Volunteers can put their own sports interests and experiences to good use by organizing programs which suit this agenda.
Rural Medical and HIV/AIDS Awareness (Zululand)
Those volunteers who are, or plan to study or work in the medical field will be interested in this HIV/AIDS awareness & medical volunteer opportunity in South Africa. Tasks are geared towards each volunteer's experience levels and may include helping local professionals in health clinics, organizing educational and health-related workshops and visiting sick patients at their homes in villages within the area. This is a great chance to get practical medical experience and to help the South African community to develop happy and healthy lives.
Wild Coast Uplift and Outreach (Eastern Cape)
Wild Coast Uplift and Outreach Program is an all-round good community-focused program. Volunteers will be expected to assist the Wild Coast Schools and Community Project team with helping to improve computer literacy skills or in their interactive sports development initiatives as well as environmental education. Volunteers may also organize and enjoy outdoor activities and weekly art classes, and support and promote safety in the playground while also contributing to playground development.
Great White Shark Research and Conservation (Gansbaai)
This Great White Shark Research and Conservation is a project for those who are fearless, and serious about committing as this project need specific knowledge before dealing direct with sharks. South Africa conservation volunteers are expected to attend a safety course provided before getting directly involved in monitoring the Great Whites and learning about this magnificent creature.
Prison Youth Creative Arts and Empowerment (Cape Town)
Prison Youth Creative Art and Empowerment is a unique project for the fearless and compassionate who really want to learn about new perspectives. Volunteers here are expected to work within the challenging (but safe) environment of prison life in order to help empower and rehabilitate young offenders aged between 14 - 25 years. To change their life prospects after prison, the inmates need special attention and programs, and volunteers help with art exhibitions, post-release programs, and various workshops to help empower these individuals.
Veterinary Assistance and Abused Animal Shelter (Cape Town)
If you're a veterinarian in the making, do consider this Veterinary Assistance and Abused Animal Shelter Project. As a volunteer, you will offer care and help to homeless animals in the shelter. The goal of this volunteering in South Africa animal program is to re-home abused, neglected and lost pets. Volunteers will have to establish a working relationship with the local residents, supporting them through effective education to protect the rights of animals. You'll work with highly qualified veterinarians and other veterinary staff who are happy to share their knowledge with volunteers.
Other programs
African Impact has so many more opportunities to volunteer in South Africa worth looking at, more than any other organization on this list. Childcare volunteers would be interested in it Early Childhood Development program, the Youth Surf Outreach program, as well as the Vulnerable Child and Community Support program. Animal aficionados would be interested in taking a look at the Wildlife Sanctuary: Rescue and Release program and perhaps even the Wildlife Photography & Conservation program.
Gender equality and women's empowerment enthusiasts will take interest in the Girl Empowerment program as well as the Gender Equality Internship if they want to take it a step further. Other unique programs of note offered by African Impact include its Plastic Upcycling and Education program, as well as its Cultural Immersion and Social Development program.
Reviews
African Impact is one of the best companies offering volunteer in South Africa opportunities. Throughout their 10 years of organizing trips, they have received only 100% positive reviews, which praise the affordability of their programs, and invite others to experience Africa as part of a real community.
Overall the experience was nothing short of incredible- I wasn't prepared for the attachment I would feel for many of the people…-Amy
Read more reviews at Abroad Review and Go Overseas and go abroad and volunteer forever.
The Fees
African Impact offers cheap South Africa volunteering work opportunities. Their prices vary according to the length of stay, destination, with their cheapest program being the Wild Coast Uplift and Outreach (Eastern Cape) with the cost for 2 weeks coming in at $886 USD. Their most expensive program is the African Big 5, and Wildlife Conservation (Greater Kruger Area) which goes over $2082 USD.
These prices include the weekly fee, which is divided so that 70% are for operation costs, 24% for marketing and sales costs, and 6% as profits for the new projects.
It's useful to know that the weekly fees cover 24/7 support from the on-site project team, transfers to and from the airport with an African Impact staff member meeting you at the airport, project orientation and induction, emergency medical assistance, transport from and to projects, health briefing, a safety briefing, as well as safe and comfortable accommodation.
Why We Chose African Impact
This organization was selected for this list of 10 South Africa volunteer program providers because it offers intense orientation training to volunteers before starting the volunteer work. It is also very cost effective with very flexible and unique programs.
Agape Volunteers (UK)¬
Location: UK
Established: 2011
Location & Projects: 4 countries, over 13 Programs Awards and Recognition: registered with the UK Charity Commission
Agape Volunteers, a UK based non-profit organization, provides charitable support to communities through the use of volunteers internationally. The company was founded in 2011 and is now running some of the best inexpensive volunteer programs in South Africa, Ghana, Tanzania, and Kenya. Around 1,000 volunteers are placed by Agape yearly into schools, clinics, orphanages, hospitals and community projects around South Africa. Let's take a closer look at the South Africa programs it offers.
Agape Volunteers Volunteering Opportunities
Animal Conservation in South Africa
Agape Volunteers animal conservation volunteer program in South Africa gives you the opportunity to involve yourself in some of the best animal volunteering programs abroad while helping to protect endangered species in a National Park in South Africa. You will work with local animal protection staff to ensure that the lions, white and black rhinos, elephants, leopards, cheetahs, buffalos and hyenas of Marakele Park are afforded the care that they need in order to survive. This is the only program in South Africa offered by Agape Volunteers, but it is totally worth checking out.
Reviews
Agape Volunteers is an efficient South Africa volunteering experience provider with amazing reviews online. Go Overseas has 19 reviews with a rating of 9.9/10 while Volunteer Forever has about 37 reviews at an average of 4.7/5.  It is highly praised by past volunteers for its transparency, impactful projects and affordable costs. Do take a look at their reviews on the platforms below for further insight into their operations:
Go Overseas-
Volunteer Forever-
Volunteer world-
The Fee
Agape Volunteers strives to provide low cost volunteer in South Africa program so that volunteers benefit and easily enroll. There is neither registration fee nor hidden cost. The fees cover food and accommodation, airport pickup, orientation and in-country support. Program fees do not cover airfare, visa fee, vaccinations, insurance and other personal expenses.
Why We Chose Agape Volunteers
Agape Volunteers was added to this 10 best list because of the value and cultural exposure the volunteers experience while on the program. The program is extensive and you can get as creative and proactive as you can with the help of the local staff, who are experienced and focused to ensure you achieve your passion.
Other Honorable Mentions
Original Volunteers (United Kingdom)
Original volunteers offers very inexpensive programs in South Africa, which are perfect for those on strict budgets. The affordable non-profit volunteering organization known as Original Volunteers is based in the United Kingdom, and was founded in 2006. They offer volunteer programs in many destinations all over the world, including African, American, Asian and European countries.
Original Volunteers is one of the highest rated organizations that run volunteer in South Africa programs. According to their reviews, volunteers advise others to choose this affordable company because they offer inexpensive volunteer schemes and amazing support throughout. See their reviews on Abroad Review.
Projects Abroad (UK)
Based in the UK, Projects Abroad offers very affordable programs across the world starting from 2 weeks. Projects Abroad has about 2,000 reviews across many organizations, including Go Overseas at 9.2 and 9.46 on GoAbroad.
Global Vision International (USA)
Global Vision International is a non-profit started in 1998 in the US. It is a renowned affordable and best volunteer in South Africa program provider. The organization has outstanding solid reviews with a 9.5/10 on Go Overseas, 4.3/5 on Volunteer Forever and Go Abroad at 9.5/10.
Global Volunteers-
Founded in 1984 in US, Global Volunteers holds a solid 9.4/10 rating on Go Overseas and 4.5/5 on Volunteer Forever with very affordable prices. We also like that they're a company that works to ensure all the South Africa volunteering opportunities are high value and they offer volunteers the opportunity to fully immerse in the culture.
A Broader View Volunteers (USA)
A Broader view (ABV) is a registered non-profit charity founded in 2007 and based in Pennsylvania. The organization offers more than 245 programs in 25 countries across the world. ABV is one of the best organizations offering the affordable volunteer opportunities in South Africa starting at $995 for a two-weeks stay. The ratings are solid at 99% on Go Abroad and 5/5 on Volunteer Forever.
SAVE Volunteering
SAVE Volunteering is a South African based non-profit organization managing and funding humanitarian and wildlife projects with the help of its volunteers. It is very affordable and 905 of your program fee goes towards funding their projects. With solid and unweaving reviews of 9.3/10 on Go Overseas and 4.6 on Volunteer World, Save Volunteering offers safe, secure and life changing volunteer in South Africa programs.
Plan My Gap Year
Founded in 2011 in the UK, PMGY has almost a decade's worth of experience and has assisted thousands of volunteers to go around the world each year to work with impoverished communities. PMGY is excellently reviewed online with 96% on Go Overseas and 4.8/5 on Review Center. Volunteering in South Africa Program fees start as low as $299 for a two-week stay.
ELI Abroad (USA)
Eli is a non-profit charitable organization that was founded in 2001, and offers a unique approach to the usual programs in the volunteer abroad field. ELI, [Experiential Learning International] has a philosophy based on learning through experience, and if this can involve international experience then so much the better. Read their overwhelmingly positive reviews on Abroad Review and Go Overseas and go abroad.
Connect-123 (South Africa)
Based in South African, Connect-123 has developed a positive international reputation since 2005 and now in major rating like Go Overseas and Go Abroad the organization holds a solid score of 9.4/10 and 9.6/10 respectively. It is very affordable with meaningful and life-changing programs. Through Connect 123 you can tailor make your South Africa volunteer work for a flat rate of $1,895 for two weeks so that you get exactly
Real Gap Experience (UK)
Real Gap Experience has 35 directions in 6 continents, where they organize more than 150 projects. They found best offers for everyone according to the volunteer's skills and wishes. They have offices all over the world: UK, Australia, and North America. Their team includes an experienced traveling specialist who is always ready to give any tips and to support volunteers. This non-profit volunteering organization offers cheap opportunities in South Africa. Read their reviews at Abroad Review and Go Overseas.
Conclusion
Some readers of this article have probably already had great experiences with one of the organizations covered here, or perhaps with another company offering volunteer in South Africa programs. Others may make their decision based on what they read here. Either way, we'd love to hear about any experiences you have had, so be sure to get in touch with us if you end up going to South Africa, or you have experienced any of these programs already!

Share your experiences, and let us know which organization you use. If you didn't, then tell us which one of these organizations made you interested in cheap opportunities in South Africa.

If South Africa is not in your list for now, you might be looking for best and affordable volunteer programs in Sri Lanka., India, Argentina, Cambodia, Tanzania, Ghana, Mexico, Peru, Costa Rica, Brazil, Thailand, Ecuador,  Guatemala, Uganda, Bali , Nepal and Kenya.

You might also want to check out our other articles on Volunteer Abroad Programs , 10 Best Cheap Volunteer South Africa Orphanage Providers, 10 Best Cheap Volunteer South Africa Wildlife Providers, 10 Best Cheap Medical Volunteer South Africa Providers and 10 Best Cheap Volunteer Teaching English in South Africa Providers. If you are planning a trip to South Africa and searching for best tour operator, check out our article on 10 best South Africa tour operators.
Leave A Comment: