Are you thinking about visiting Thailand? Would you like to combine a visit to this magnificent country while making a real meaningful difference, for example, volunteering in Thailand? Are you interested in hearing about the best and cheapest volunteer providers in Thailand?
Thailand is a country of wonder, teeming with a rich history and culture, royal palaces, tropical beaches, ancient ruins and astounding temples. More importantly, visitors are almost always greeted with warm smiles. A visit to the country is a relaxing and memorable holiday in itself, but many often find they visit and want to give back more.
While volunteering in Thailand is a life-changing experience, it gets confusing once you start trying to find a safe and affordable Thailand program provider. Any search on the internet will have you realize that there are a lot of companies offering Thailand volunteer programs, with prices ranging from a few hundred to a few thousand dollars – for essentially the same programs!
It's easy to get overwhelmed or even fooled by these organizations. Furthermore, how can you be sure about what you're signing up for? Many cases have demonstrated that rushing and making the wrong choice only results in a very poor and even dangerous volunteering experience.
At TravellersQuest, we don't want see you paying super high costs for volunteering in Thailand and potentially making the wrong choice. We want to see you join a reputable, safe and affordable program in Thailand where you can be certain you'll create a lasting impact and leave with great memories to last a lifetime.  
So, guess what? We did the hard work for you! We spent hundreds of hours researching, and finding the 10 best and safe volunteer providers in Thailand, just for people like you who want to travel to Thailand and make a difference.
You can choose between providers who care about quality, safety and genuine community benefits. We sincerely believe that choosing one of these organizations will result in an >amazing volunteer abroad experience in Thailand.
Keep reading to discover the 10 Best and Cheapest Thailand Volunteer Providers 2020 with the highest rated companies in the world.
Table updated: May 20, 2020
Location: New Zealand
Established: 2007
No of Volunteers: 112,000
Location & Projects: 42 countries over 200 Programs
Awards and Recognition: Certified B Corporation, Member of the Volunteer Groups Alliance (VGA)
The first provider we're going to look at today is International Volunteer HQ (IVHQ), a New Zealand volunteering organization that was originally established in 2007. Anyone who volunteers internationally will for sure know about IVHQ, so be sure to put this company on your radar too. IVHQ's primary focus is on providing affordable volunteer travel experiences that are safe, high quality and environmentally and socially responsible. IVHQ has programs in more than 30 countries worldwide, and of course, in Thailand, and places thousands of volunteers abroad every year. To date, IVHQ has served about 42,000 volunteers worldwide since its founding.
Let's check out the company's volunteering programs in Thailand, shall we?
IVHQ Volunteering Opportunities in Thailand
IVHQ's teaching English program is in Chiang Rai in the gorgeous hills and forests of Northern Thailand. Here, the local Thais have restricted access to formal education and there is a real need for volunteers to assist in teaching, not only young children, but also adults. Volunteers are needed for this project all through the year to help the local teams run school camps and other events for the local children. This project also encompasses childcare work and teaching monks, local people and staff. Are you a native English speaker? Could you see yourself doing this? Previous TEFL training is preferred for this, but not essential. Passion talks way louder and if you have a passion to teach, do consider this program!
Do you have a passion for education, but don't know where to start? Do you enjoy working with children? This exciting project in Chiang Rai involves working with children aged 2-6 at teaching and daycare centers. Volunteers assist local trained staff with tasks like planning and teaching classes, serving meals, general tidying chores and putting smiles on children's faces. No previous experience is necessary to join this program, which runs year round except for during vacation time during April and October. You can volunteer for anything from 2 weeks to 12 weeks, and time off can be set aside for exploring the surrounding hill tribes and nearby cities, such as Chiang Mai.
Are you physically fit, strong, and love to spend time outdoors? Have you always been some who fixes things, or even better, builds new things? IVHQ offers an outdoor Thailand volunteer opportunity in Chiang Rai, perfect for those who are physically strong and enjoy the satisfaction of creating and building things. In this project, you would be involved with important infrastructure for local communities. Previous tasks completed include building classrooms, homes and toilets, repairing roads and maintaining vegetable gardens. Sometimes the weather makes outdoor work impossible, in which case volunteers help with research projects.
In terms of IVHQ's other volunteering opportunities in the beautiful country of Thailand, the organization has one other location where it offers projects: at the royal seaside town of Hua Hin and its nearby Kaeng Krachan, which takes you much further down south of the country. In Hua Hin, IVHQ has a Teaching English in Hua Hin program, where volunteers can help teach English at local Thai kindergartens, schools and community centers, greatly helping the students increase their chances of future employment, as English is very important for the country that relies heavily on tourism.
Another project you could get involved with is the Hill Tribe Support in Hua Hin. The hill tribes living in the area have an increasing need for access to modern education. This is a fantastic opportunity to teach at local schools, working with students between 3-15 years old. You will walk away knowing you have genuinely helped improve the futures of many and also having learned about the local Karen hill tribe's customs and culture.
Reviews
IVHQ has received a welth of positive reviews for their volunteer Thailand programs and elsewhere online. IVHQ share reviews on their website according to destination and project that explain the volunteers' many positive experiences. With thousands of happy volunteers and their positive feedback about the program flexibility, coordinators, support, food, and safety, you can feel confident choosing IVHQ for your next volunteer abroad adventure.
My experience with IVHQ was one I will always cherish. It was such a milestone for me and a great opportunity to expand in every way…-Kathryn Farrell
Read more reviews at Go abroad, Go Overseas, volunteer forever and abroad reviews
The Fees
IVHQ offers inexpensive volunteer programs in Thailand. The program fees are set based on the destination and the length of stay. The application registration fee is $279 USD and it's a refundable fee if the volunteer decides to not go.
The Program Fee includes airport pick-up, orientation, program supervision, accommodation and meals during the volunteer program period, in-country 24/7 volunteer support and in-country administration costs. Volunteers are responsible for flights, visa, travel insurance (mandatory), travel to Chiang Rai once in Thailand, vaccinations, in-country trips and tours, spending money, etc.
Why We Chose IVHQ
IVHQ commits themselves to providing the most immersive and culturally enriching experiences possible while volunteering in Thailand. As always on our list, they also have very low prices and excellent reviews.
Location: USA
Established: 1998
No of Volunteers: 18,000
Countries & Projects: 19 countries and over 200 programs
Credentials: Partnership with AIDCamp, UK, Partnership with YETI, USA
Another organization every international volunteer should be aware of is RCDP. Since its establishment in 1998 in the US and Nepal, RCDP has helped over 18,000 happy volunteers. RCDP boasts some pretty amazing and impactful volunteer projects worth delving into, like teaching English to students of economically challenged families, or helping on public health, elderly home projects and orphanage projects. The company also helps to raise capital for schools, orphanages, and other NGOs. Quite notably, RCDP offers some cheap programs in Thailand, and various other countries.
Each year hundreds of volunteers turn to RCDP for its inexpensive programs in Thailand. RCDP encourages volunteers to share their skills with individuals and communities who need them to grow and escape poverty. RCDP also provides safe places to stay with either a host family or in a hostel which is an ideal way to engage in local Thai culture.
Let's go ahead and take a look at some of RCDP's programs in Thailand.
RCDP Volunteer Abroad Volunteering Programs in Thailand
Are you someone who is passionate about taking care of young children, especially those aged between 2 and 6 years old? Childcare services in Thailand are unaffordable for financially challenged families who need these services the most. Buddhist temples and local government do their bit and have established centers to aid such families; however, financial constraints continue to cause those centers to struggle in providing full support and good care for these children. Thus, RCDP volunteers step in to help fill that gap through this volunteer work in Thailand. This project is located in Ayutthaya, the old capital of Thailand before it was invaded by the Burmese. The area is simply teeming with temples and ancient ruins waiting to be explored.
Are you interested in teaching English to primary and secondary school students in Thailand? You don't have to have any qualifications to do so, just a working knowledge of good English. Students need to learn English and despite growth in international trade and ever-increasing tourist arrivals in the country, many Thais still can't speak or understand English. English has become imperative for Thais to learn as their careers potentially hinge on their ability to speak and write in English. By joining this volunteer Thailand program, you can help solve this problem.
Thailand is home to over thirty thousand Buddhist temples where young Thai monks live, work and study. Many temples are actively involved in social work such as operating schools where boys from poorer families go to study. The standard of English taught isn't good enough as there is a lack of qualified English teachers in Thailand, which is where volunteers come in.
Are you a healthcare worker or a medical student? Here's your chance to shine, RCDP's Thailand program is making strides to improve the local healthcare system. New hospitals and rural health clinics have opened in Thailand, but in places like Surin, families still can't afford healthcare. Thus, RCDP volunteers work in these communities to deliver much needed healthcare services. Could you see yourself doing this?
RCDP has some other volunteering projects in Thailand too that are worth checking out in the locations of Surin and Ayutthaya. Pretty much all the projects we discussed in Ayutthaya are also available in Surin. The area of Surin is sadly one of the poorest areas in Thailand. Here, volunteers can do their part and get involved in a number of ways, such as working with disadvantaged children. Volunteers here will help provide basic education and English, as well as help organize games and activities.
Volunteers can also teach English in Surin to help brighten the children's future employment prospects. There is also a healthcare opportunity available working in local clinics and hospitals in the poor area. And other projects offered in the poor area of Surin by RCDP include community development initiatives where volunteers work with farmers to grow vegetables and/or RCDP's Elephant Project which involves looking after domesticated elephants who were once used for the country's tourism industry.
Reviews
RCDP is a highly rated volunteer company. There are many individual online reviews on the internet where past volunteers praise RCDP for their services and quality of experience. Compared to many of its competitors, RDCP has earned its stripes as a trusted, safe, affordable, and flexible organization offering the highest rated and best volunteer trips in Thailand.
I highly recommend using this company to volunteer abroad. Their staff are really respectful and comprehensive…-Ivan<
Read more reviews at abroad review and Go Overseas
The Fees
RCDP Volunteers offer inexpensive programs in Thailand. Most programs are offered at $470 for one week. Volunteers responsible for their own airfare, visas, vaccinations and travel insurance, along with any other spending money they may need.
Why We Chose RCDP
We gave RCDP a place on this list of the best providers to go volunteer in Thailand with based on their long list of projects, excellent homestays and stellar reviews coupled with affordable prices.
Location: USA
Established: 2006
No of Volunteers/Interns: 22000+
Location & Projects: 20 countries, over 200 programs
Recognition: Registered as a 501(c)3 non-profit
IFRE another amazing international volunteering company many should be aware of. IFRE is a nonprofit organization located in the USA that was founded in 2005 and has helped many volunteers grow into dedicated humanitarians. The company provides low cost projects in Thailand. With 200 projects and more than 22,000 volunteers working in 18 countries, the company built its reputation in order to support underprivileged children, local community development initiatives, and grassroots organizations worldwide through the help of its consistently great volunteer abroad programs.
As a volunteer in Thailand program, they aim to encourage cultural immersion, language courses, positive volunteer opportunities and more. Volunteering through IFRE provides inexpensive programs in Thailand with fees that are transparent as can be, when compared to other providers.
In a snapshot, IFRE volunteer projects in Thailand give volunteers an excellent opportunity to change their life and the lives of the people they serve, while also providing a memorable holiday experience in Thailand. Their program emphasis is on teaching English in local schools, construction projects, supporting local orphanages, educating Buddhist monks, and elephant conservation projects. IFRE programs generally begin on Monday. For volunteers that are eager to donate their time abroad, all projects run for a minimum of one week to a maximum of 12 weeks.
Let's take a look at IFRE's Thailand programs, shall we?
IFRE Opportunities in Thailand
Are you someone who is deeply passionate about taking care of young children and helping to put smiles on their faces? This IFRE Thailand volunteer program is based in one of Thailand's poorest provinces called Surin. The childcare project is essential for many families with young children as it offers assistance to the Thai children by providing low-income parents with adequate childcare services so they can go to work.
Are you someone who is strong and physically fit, and who perhaps has been involved with building things before? IFRE Volunteers' primary goal for the volunteer building project in Surin is to assist the community by constructing sufficient modern infrastructure and even orphanages for the local community. IFRE projects help with the development and livelihood of the communities that they serve in.
On top of being one of the poorest areas in Thailand, Surin is more positively known for its elephants, silk and ruins of a Khmer empire. Chiefly known for its elephants, the province is home to 400 elephants which were originally captured from the jungle by some of Surin's founding farmers and forefathers. As a volunteer you will work with the community to help take care of and handle these elephants. The elephant project is a great option to consider when it comes to volunteering opportunities in Thailand. If you are an animal-lover, or you've always wanted to spend time with elephants, this is a great volunteering opportunity.
Many young boys go to temple schools and live the lives of monks, however the education they receive from these underfunded schools is often limited. Volunteering in Thailand at a Buddhist temple school is a very noble experience to take on and will also ensure you learn about one of the most important practices of the country: Buddhism. IFRE's volunteer projects in Surin are incredibly beneficial to these schools as they ensure young boys are equipped with all the necessary skills to make it in the world. There are about 30,000 Buddhist temples in Thailand and they all need native English speaking teachers like you – do you think this is something you could do?
This is a great option for those who love teaching English. The IFRE's Volunteer teaching program teaches English to children in the rural Surin province in NE Thailand. Teachers that get the opportunity to teach in orphanages, primary schools & secondary schools, as well as teaching children with special needs.
IFRE has a number of other volunteering opportunities in Thailand worth considering. For those interested in being a childcare volunteer, there is a program in Ayutthaya where you can spend your time looking after children from poverty-stricken families and ensuring they are well cared for in the care center. Also located in the city of Ayutthaya, Thailand's previous capital, is a teaching English project that involves teaching at a local public school.
For those of you who are truly passionate about caring for elephants and want to spend longer amounts of time with them, while also combining such experiences with adventure and experiencing Thailand's beautiful beaches in the south, then you're in luck. IFRE organizes a special 15-day program where you spend time with elephants and then head out to explore the islands. IFRE also has a 29-day volunteer and adventure programs that takes volunteers around Thailand and Cambodia, with trips to beaches, amazing temples, a stay in Thailand's Khao Yai province and a visit to Cambodia's famed Angkor Wat, and more. Another experience is for those who truly want to experience all that Thailand has to offer: the 29-day Thailand Explorer (Volunteer & Adventure) Package. All these amazing volunteering opportunities can
Reviews
IFRE volunteers have two major advantages over their closest competitors: some of the cheapest rates, and some of the most reviews, with a high majority being overwhelmingly positive. IFRE undoubtedly provides low cost volunteering projects, which all have safety and security built into the packages to ensure peace of mind. IRFE has countless reviews available online reflecting how supportive and kind their teams are and how satisfied the volunteers were of their overall experience. Given the many positive reviews, this company receives an A plus. You can visit their online website to see volunteers' reviews and stories.
My volunteering work at an orphanage through Institute for Field Research Expeditions was an enriching, smooth and amazing experience… -Mansukhsingh
Read more reviews at abroad review and Go Overseas
The Fees
The IFRE is among the cheapest volunteer organizations with packages in Thailand that offers great deals. Additional costs for volunteers include: international flights, passport, visa, food and beverage expenses, travel vaccinations and your day to day spending money.
Affordable volunteer projects, starting at $250, Application fee of $299 USD, The weekly program fee is paid directly to your project, and covers your room, board, and field support.
Why We Chose IFRE
IFRE offers an absolutely excellent support staff and network that does everything they can to keep those volunteering in Thailand happy, fulfilled, safe and comfortable. Put this together with heaps of praise in their reviews and cheap prices and you have one hell of a package.
Location: USA
Established: 2003
No of Volunteers: 20000
Location & Projects: 20 Countries, Over 200 Programs
Another provider international volunteers should have on their radar is Global Crossroads. The volunteering organization was founded in Dallas, Texas, USA and is to this day still fast growing in the numbers of happy volunteers it has helped. Global Crossroad prides itself in offering safe, affordable, life enriching and consistently amazing experiences for its international volunteers.
An important part of Global Crossroad's successful volunteer experiences in Thailand is the company's extensive volunteer support in-country. They aid over 18,000 volunteers who travel internationally. The company makes great efforts to assist grassroots assignments in developing countries that provide genuine hope for underprivileged individuals in rural areas, primarily kids in orphanages and women.
Global Crossroad provides fairly flexible programs featuring placements in other locations as a result of the special requests of its volunteers. The volunteer program duration is up to 12 weeks. Programs in certain countries may be customized to enable volunteers to take part in more than 1 project in one country. Global Crossroads provides volunteering programs that make a real difference.
Let's take a look at Global Crossroad's programs in Thailand.
Are you someone who wants to help look after young children? This program positively changes the lives of children and families in Thailand. Surin is known to be one of the most deprived areas of the country, which makes it very challenging for struggling parents to give their children adequate time and attention when they have to work. The children are in need of good child care, education and skills that will improve their chances of a successful future. This Global Crossroad's volunteer Thailand project works closely with orphanages, schools and other centers to help these children and their parents.
Teaching English is a noble pursuit when it comes to Thailand, as many realize they desperately need to learn it in order to secure chances of future employment. If you are a native English speaker, this program is worth considering. Global Crossroad's Teaching English project participates in nurseries, child development centers, and even schools in both the provinces of Surin and Ayutthaya. Volunteering to teach English will entail offering practical conversational skills, grammar and pronunciation to eager learners.
Are you someone who can teach English? Do you want to do so in a noble way, by teaching young monks and boys in temple schools in Thailand? Often these schools don't have the necessary capabilities to teach English. Volunteers teaching English in a Buddhist temple school in Thailand assist young monks in expanding their future career opportunities in a country dependent on tourism. Wats (Buddhist temples) have functioned as educational institutions for young Thai pupils. Volunteering is a 2-way opportunity to give to others while learning about the rich Thai culture and its reverence for Buddhism.
Are you a medical or healthcare student passionate about broadening your horizons and helping the world with your skills? Volunteering in Thailand within the healthcare and medical fields helps distribute healthcare to Thai individuals who require it the most. Global Crossroad's medical volunteer project needs nurses and health professionals to operate in Surin's clinics, hospitals and childcare facilities. Volunteers work together with local medical practitioners and doctors, obtaining knowledge and beneficial experience. As a volunteer in Thailand, being part of the healthcare project will certainly transform the lives of everyone involved.
Are you someone who loves animals, and more specifically elephants? Have you always dreamed of meeting an elephant, but of course, never had the chance back home? Volunteers within this assignment are able to play with elephants and shower them with daily love and care. Volunteers join local non-profit organizations to support elephant care and conservation in Surin while educating locals on the significance of safeguarding elephants and animals in Thailand. Volunteers in Thailand on this project will help feed, groom, maintain, and supply medical attention to elephants and genuinely become friends with them. There are numerous groups in Thailand offering care for animals and elephants; however, they are short on resources.
Global Crossroads has a number of other incredible volunteering experiences in Thailand that are totally worth checking out. If you are someone who is keen on mixing volunteering work with exploration and adventure in Thailand and a trip to Cambodia, then Global Crossroads' Explore Thailand and Cambodia (29 days) package is a sure-must. For those keen on spending a longer period of time with elephants, and who also wouldn't mind visiting Chiang Mai in northern Thailand, a city teeming with character and rich cultural experiences, then you should definitely check out the Chiang Mai Elephant Experience – 7 days.
Global Crossroads also has a longer 15-day adventure volunteering with elephants and visiting Thailand's best beaches and islands. An even greater opportunity for elephant lovers would also be Thailand Explorer 29 days, which would entail working with elephants while also getting involved with building projects that would enhance the country's still growing infrastructure. There are also school renovation projects to consider in the rural areas of Thailand. Additionally, if you're looking for a 3-week summer program that would entail working with an NGO in Bangkok, Global Crossroad's Summer Volunteer and Travel Program in Thailand is the one to choose. All of Global Crossroad's volunteering opportunities in Thailand can be found here.
Reviews
Global Crossroads offers inexpensive volunteering programs in Thailand. They also offer volunteers memorable experiences and security options as well as unrivalled flexibility that allows volunteers to also travel around the country. This company has countless positive volunteers' reviews and stories on the internet which you can easily view utilizing simple internet research.
Overall my experience with Global Crossroad has been veritably positive. It was very rewarding working in the orphanage - they definitely need the help…-Lpowers
Read more reviews at abroad review and Go Overseas
The Fees
Global Crossroads provides inexpensive Thailand volunteer programs beginning at $250. They strive to keep the costs affordable for their volunteers. Program rates are dependent upon the length of stay plus the destination.
Global Crossroads program fees are split two ways:
The application fee which is $299 USD. This covers staff salaries in USA office, program advertising, etc.
The weekly program fee is paid directly to host families and projects.
The weekly fee cover accommodations, meals, the cost of in-country coordinator, certificate of completion, pre-departure information, and fundraising ideas.

Why We Chose Global Crossroad
Global Crossroad stands out with their commitment to a grass-roots approach to volunteer, and also charges very low fees and receive excellent reviews across the board.
Established: 2006
No of Volunteers: 17000
Location & Projects: 42 countries over 160 programs 
Awards and Recognition: Top Eco-Enthusiast in 2017 by Greenmatch, 2018 Top Volunteer Abroad Organization from GoAbroad, endorsed by the United Nations

For the environmentally conscious international volunteers out there, GoEco is definitely an organization you should consider looking at. GoEco was founded in 2005 to encourage ecological and responsible tourism that would promote sustainable development, and that includes all its volunteer projects in Thailand. Operating in Over 33 countries, the company mobilizes over 1,000 volunteers each year. This organization allows travelers to experience a different and more rewarding kind of tourism; by encouraging travelers to volunteer for the benefit of others, they are able to fund safe and affordable projects in beautiful destinations all over the world.

GoEco's Volunteering Opportunities in Thailand work with volunteers to help them provide sustainable programs to help secure a better future for struggling populations in Thailand. Volunteers can choose from a wide range of programs, like working with elephant conservation, or teaching English. Let's take a look at the volunteering projects in Thailand, shall we?

Are you someone who is passionate about working with elephants and spending a lot of time in the wild? Do you want to see elephants treated justly? To put an end to elephant cruelty and maltreatment, a non-profit organization founded this Thailand project and passed it onto the community to gather funds. These funds help support the cost of purchasing food and other necessities for the elephants living in the village. This project ensures the elephants remain safe, healthy, and also prevents the selling of them to street hawkers.

Are you someone who wants to contribute to the improvement of communities in Thailand? When considering inexpensive volunteer work in Thailand, this project is designed to bring support and education to the communities of Sing Buri. This community development initiative sees volunteers are placed in schools and orphanages to help with teaching or construction work.

Are you someone who is passionate about teaching and passing on important knowledge to the youth? In this amazing teaching program in Thailand, volunteers will teach school children aged between 4 to 21 either English lessons or physical education. The schools follow a relaxed teaching approach, meaning that Thailand teachers are able to use their own methods to educate the students.

Have you always had a compassionate nature when it comes to young children? Are you someone who wants to see children have a better future, no matter how dark their pasts are? Nearly all large orphanages in Thailand have a primary as well as a secondary school on the grounds for both orphans and poor children. In this program, you can volunteer at two main orphanages and this entails helping maintain the orphanage buildings and grounds, and also helping with renovations or light construction projects when needed.

This is a perfect experience that combines both fun and work. Volunteers at this Thailand volunteer opportunity learn how to lead and control a classroom while teaching different levels of English. The support team will be available to give ample assistance to plan classes and so on. In Thai culture, teachers are very well-respected and admired. This project teaches a basic level of English among the children. And because this school is located on the beautiful island of Koh Samui in the south of Thailand, you will definitely be having plenty of beach time too.

If you are strong and love to build things as well, this program might be better suited to you. Working with other Teach and Beach volunteers, volunteers will be concentrating on improving the appearance and security of buildings, the classrooms, as well as any other element of the school, rendering it to be more conducive to learning and happy children. The goal is to make this school a beacon of hope on the island.

This Thailand volunteer project helps deliver tangible, long-term solutions for a community in need. Development projects can range from painting a mural on a classroom wall to building an entire community center.

Are you someone currently studying marine biology, or someone who is deeply passionate about understanding marine life? This Thailand program uses an all-inclusive solution to conservation and is set in the pristine waters of the Thai province and bay of Phang Nga. It emphasizes protecting the fragile coastal and marine ecosystems which are in danger due to economic stresses, pollution and natural damage. The goal is to teach locals about environmental concerns and ways to prevent destroying the coral reefs and marine life while encouraging sustainable economic efforts and food sources.

There are some other really amazing volunteering opportunities in Thailand with GoEco that are environmentally focused and you should definitely check them out. One of them is the Recycling and Sustainability program, where volunteers help clean up the communities of Sing Buri which is rife with plastic pollution and build new processes to make recycling a simpler process. Another program involves going to the coastal town in Hua Hin and doing some teaching at local schools around there and also getting involved with childcare centers to help look after children whose parents can't afford to during the day.

For wildlife lovers, GoEco has a fantastic volunteering opportunity to live in a real gibbon primate sanctuary and care for and look after gibbons that were rescued and/or are recovering from abuse or injury. Volunteers can also choose the Eco Clay Community Construction program where you get involved with aid with the construction of eco-friendly, clay structures for a local community in central Thailand. Other programs definitely worth checking out by GoEco are its Akha Hill Tribe Experience and the Under 18 Sea Turtle Adventure.
Reviews
Although good volunteer reviews and stories about GoEco can be found all over the internet, they are also recommended by big companies such as The Guardian, MSN, Huffington Post, US News & World Report, Journeys for Good, Goodnet, The Boston Globe, and The Today Show. These shows and journals wrote many articles about GoEco and their programs, recommending them to thousands of volunteers all over the world.
Overall I'd recommend this experience! GoEco did a great job supporting the whole process before during and after the trip…-Sonia
Read more reviews at go abroad and Go Overseas
The Fees
Volunteers pay fixed fees for GoEco's volunteer opportunities in Thailand starting at just $550 a week for their Childcare project. Community Projects run for $700 a week. Even their Marine Conservation starts at 2 weeks for $1,775. All prices include local in-country support, accommodation, food, pre-departure kit, orientation, airport transfers, as well as insurance. The weekly price doesn't include any fees related to visa, personal expenses, local transportation, flights, or transportation back to the airport.
Why We Chose GoEco
GoEco's philosophy of environmentally sustainable and responsible volunteer Thailand is an excellent reason for them to be on this list. Add to this their range of interesting programs, reasonable fees and rave-reviews, and you have a winner.
Location: UK
Established: 2011
Location & Projects: 50 Countries over 200 Programs
If you're looking for a company that provides gap year travel opportunities, then Gap 360 is a provider you should definitely consider. Gap 360 was established in 2011. The Gap 360 office is based in the center of Tunbridge Wells, Kent. Gap 360 Encourages travelers to volunteer for the benefit of others and to support environmental and humanitarian programs.
Considered as an organization providing some of the best volunteering programs in Thailand, the Gap 360 Company also offers a wide selection of exciting activities all around the world. Volunteering can provide valuable new skills, and unforgettable experiences.
Gap 360 also creates a platform for exploring various organizations that support the environment. Gap 360 currently features over 200 trips in over 50 amazing destinations!
Let's take a look at the volunteering opportunities the company has in Thailand.
Gap 360 Programs in Thailand
Are you someone who is passionate about taking care of young children? Gap 360 offers volunteer opportunities in Thailand that entail being a childcare volunteer who gets involved with looking after pre-school kids and planning fun and educational activities with them. These activities are designed to build confidence and improve their social skills. These volunteers teach kids basic English, health and hygiene, songs, games, arts and crafts activities.
Are you someone who wants to work with elephants and learn a little more about them? This elephant project was established to offer a protected home for the elephants in Thailand of Surin province. The elephant village is placed in a gorgeous rural area near Surin, and is a haven for around 35 elephants, which reside together with the local villagers. This Thailand volunteer experience provides not only a distinctive elephant interaction, but also a fantastic cultural exchange in the authentic and rural Thailand.
There are a couple of other interesting volunteering opportunities to consider in Thailand. Gap 360 also offers some amazing medical internships in Thailand set in the rural heart of Thailand in Surin. If you are a medical student or healthcare professional, this would be a great opportunity to improve the health of the community and this job will entail daily home visits. Other programs offered by Gap 360 include adventure trips that feature an odyssey between the three countries of Thailand, Cambodia and Vietnam where there will be some volunteering opportunities as well such as working on an elephant volunteering project in Chiang Mai, Thailand. Do note that these trips tend to be more focused on the holiday and adventure aspect than they are on the volunteering aspect.
Reviews
Gap 360 performs very well when it comes to reviews. There are countless reviews available for Gap 360 online for volunteers who made trips to Thailand. There are many reviews stating that the trip was great, however there were a few complaints about these trips leaning more towards holidays than the projects that they were described as. Some reviews claimed that food wasn't included with their stay as it was described. Even with all these reviews, each review boast about how these trips were unforgettable and amazing experiences for reasonable prices.
Gap 360 gave me the opportunity to have one of the most exciting, challenging and rewarding experiences of my life, whilst volunteering Program
Read more reviews at reviews and Go Overseas
The Fees
This company offers an affordable teaching and childcare program at $905 for 2 weeks. And also an elephant experience at $1,090 for 2 weeks. Additional costs for volunteering in Thailand include international flights, passport, visa, food and beverage expenses, travel vaccinations and your day to day spending money.
Why We Chose Gap360
We selected Gap360 for their excellent humanitarian and ecological programs, great prices that have absolutely no registration fees, which is a huge bonus, and of course their mainly excellent reviews.
Location: UK
Established: 2006
Location & Projects: 26 countries over 100 programs
Awards and Recognition: ATOL protection, International Passenger Protection, Responsible Travel, Duke of Edinburgh's Award, WYSE Member
Oyster Worldwide is also another company worth considering that has some fantastic volunteering opportunities in Thailand. Oyster is a family-owned, UK business that specializes in organizing paid and voluntary work abroad for individuals from all around the world. Oyster was established in 2006 to help connect caring people with reliable organizations that encourage humanitarian and economic growth and development. They have placed many volunteers in over 14 countries including those wishing to volunteer in Thailand.
With Oyster Worldwide, you can do voluntary work overseas in a project that suits you, for the amount of time you prefer. Offering a wide variety of volunteering projects abroad and for different durations, as a volunteer you can almost be certain to find the perfect project for you. As an experienced organization, Oyster Worldwide is passionate about connecting the right people with the right projects.
Are you into scuba diving or snorkeling? Are you a huge fan of aquatic life? Do you want to help with efforts to conserve marine life in Thailand? Then why not help conserve the world's depleting coral reefs as a marine conservationist in Thailand? Submerge yourself in the marine world conducting daily dives off the beautiful Thai island of Koh Phangan, all while contributing to essential research and conservation project. Volunteers work with a marine research organization carrying out daily dives to help understand the local ecosystem and build and apply methods in reef conservation.
Are you someone who is passionate about saving the sea turtles, which are more often than note subject to horrible conditions, surrounded in plastic and trying to escape human poachers? Join this Thailand Volunteer opportunity that is aimed at encouraging the survival of these beloved turtles! Along with the work to endorse the conservation of turtles, there is the opportunity to assist in gathering data on the influence of humans on the coastline, which is vital for its preservation.
Are you passionate about the environment, wildlife, and animals? Help preserve and protect over 400 neglected animals at this wildlife haven. You'll be working at a wildlife sanctuary and see yourself become part of an important mission and Thailand volunteer work project to rescue wild animals from neglect and past abuse, giving them a home in this amazing sanctuary, or even back in the wild. From bears to birds, from monkeys to gibbons, you will make a valuable contribution to this important venture. Volunteers become a part of this wide-ranging and vital program which includes feeding, observation, education, rescues and release.
If you love elephants and you deeply want to care for them, then this project is definitely worth considering. For those who would like to volunteer helping with these mistreated and amazing animals, as well as other wildlife too. Volunteers Thailand elephants are essential members of this growing elephant sanctuary in Thailand, currently home to 15 rescued elephants who live at Thailand's first and only chain-free sanctuary. Elephants have endured a tough history in Thailand. This project helps these animals immensely.
There are some more volunteering projects offered by Oyster, but they are mainly geared towards families. So if you and your family want to either volunteer at an elephant sanctuary, or together, you and your family want to volunteer at a wildlife sancturary, then you should definitely consider the following programs by Oyster: Family volunteering in Thailand at an elephant sanctuary and/or Family volunteering in Thailand at a wildlife sanctuary, with both programs lasting 1-2 weeks.
Oyster also has an incredible program for people who actually want to learn how to teach English and get accredited before going on to teach English. The company has several 120-hour courses in Hua Hin and Chiang Mai that will help prepare you for a pretty well-paid teaching job in Thailand that would last somewhere between 4 to 6 months. This is a perfect opportunity if you are actually looking to build your career around teaching English.
Reviews
The company truly aims for high quality by providing excellent support before, during and after placements, and there are plenty of volunteer reviews and stories available to support this statement. There are virtually no negative reviews to be found. This means that Oyster Worldwide makes a concise effort to meet the needs of their Thailand volunteers. With a slew of positive reviews available on several volunteer abroad sites, you can feel comfortable in choosing this trusted organization.
I have never been travel the world like a volunteer. But now, I can do it with peace and love. I like children and it is pleasure for me to give my experience for other... -Maria Khimka
Read more reviews at go abroad, volunteer forever and Go Overseas
The Fees
They offer an affordable Animal Rescue project in Krabi for a flat fee of $785, and this fee remains the same for all project durations. Also included with all Thailand volunteer programs are meals that are provided on site, internet access and computer on site, along with a television and DVD player.
Why We Chose Oyster Worldwide
Oyster Worldwide runs some stunning projects for volunteer Thailand in the south amidst sandy white beaches and amazing weather. We also like that they're a family owned business, and that they offer their highly reviewed programs at a low cost.
Location: UK
Established: 2003
No of Volunteers: 20000 Location & Projects: 20 Countries, Over 200 Programs
Plan My Gap Year (PMGY) is an organization especially popular with younger students who have just graduated and are looking to plan a meaningful gap year abroad, however people from all age groups use the company. With over 10 years' worth of experience, PMGY is known to connect volunteers with safe and structured programs around the world that last anything from 1 to 40 weeks. The company has worldwide teams in the UK, US and its host dest
With that said, the company has a number of amazing volunteering opportunities in Thailand worth considering. Are you ready to delve into some of them? Let's go!
Top Programs in Thailand
Are you someone who is passionate about putting smiles on the faces of young children and helping to brighten their futures? This role will put you in touch with childcare centers in Thailand where you will be caring for young children experiencing the first few years of their life. This is indeed an important and incredibly forming time for children and as a childcare volunteer you will have the chance to make positive impressions and experiences for the children that will help benefit them in the future. As children are often apart from their parents, it is essential that they receive the care they need. You will be attending pre-schools in the area of Pathum Thani to provide Thai kids with love, care, nurturing, mental stimulation, attention, encouragement and positive reinforcement.
Are you someone who deeply cares about the welfare of elephants?  Do you envision seeing yourself spend time with elephants? In this elephant volunteer project, you will be stationed and living at an elephant sanctuary caring for rescued (domesticated) elephants that were once being abused for use in the country's tourism industry. These elephants are often trained/heavily broken into in ways that leave them traumatized. And with the rate at which wild elephants are slowly dying out (currently Thailand now only has 2,200 elephants living in the wild) the times are getting harder for elephants. Do your part by helping the elephant center carry out daily routines that care for these gentle giants.
Are you an English native speaker and looking for ways to make a powerful and lasting difference in the lives of many? The Thai education is embedded in rote-learning and unsatisfying curriculums that often leave Thai children yearning for something more. English, if taught at the schools, is often not done so by a skilled teacher and most of the time students find they end up leaving schools with very little knowledge of English, or the confidence to speak it, something that would actually have benefitted them greatly in their future career prospects. As a volunteer, you'd be stationed at any one of the local schools in Pathum Thani province that PMGY is partnered with, and you'd be passing on your English skills and teaching kids conversational English – something that could stand them in very good stead in the future. Every little helps!
It's a sad fact that many animals in Thailand (and the world) are on the brink of extinction due to the harsh living standards of humans. If you're someone who wants to travel to Thailand with a purpose, then getting involved in PMGY's wildlife rescue program would be a good starting point. Here, you will work with the wildlife rescue center that is working tirelessly to get animals out of the miserable conditions they face, such as overexploitation, habitat loss and habitat degradation. You will be helping the Wildlife Friends Foundation Thailand (WFFT), located near Hua Hin, with daily duties such as preparing and distributing food to the animals, cleaning, general maintenance of the center (where you will also be staying!) and much more. It's an early start though at 6:30am everyday however rest assured you can save money on transportation costs as you'll be onsite all the time!
There aren't too many other volunteering projects outside the ones listed above however there are some other Thailand-focused trips to consider by Plan My Gap Year, such as the Real Thailand Experience, the Thailand Intro Experience and for those with 9 weeks to spare, the Real Summer Encounter – Sri Lanka, Thailand & Fiji.
Reviews
Plan My Gap Year is a truly amazing volunteering provider that has consistently structured and meaningful programs that have won the praises of all its past volunteers. The company has time and again received extremely positive reviews. PMGY has a very high 96% 10 out of 10 rating on Go Overseas and furthermore has a 4.8 out of 5 rating on Review Center. Across both platforms the company has attained over 500 reviews. See the positive review below of a previous happy volunteer:
At the beginning of September I spend 2 weeks doing the Thailand childcare programme. I would 100% recommend this programme to anyone, I had the best time making so many unforgettable memories! Jessica
The Fee
Plan My Gap Year offers some amazing prices for its Thailand volunteering packages, some of which start from as low as $547 USD for the first two weeks, which is an unbeatable price if you think about it! This price includes the registration fee. Program fees tend to include accommodation, meals, airport pickup, in-country orientation, transport to project (if you don't want to do a 30-minute walk!) and 24-hour in-country support. Do check out this link here to have a more detailed look at some of the prices for the other programs
Why We Choose PMGY
It cannot be denied how well planned and executed PMGY's Thailand programs are. Of all the overwhelmingly good reviews from past volunteers in Thailand, all focus on how good the experience was and how they genuinely felt like they were making a difference in their volunteering projects.
Location: New Zealand
Established: 2009
Location & Projects: 38 countries over 100 projects
Love Volunteers is an amazing international volunteering organization known for its programs that come straight from the heart. The company was set up in New Zealand in 2009 by a brother and sister duo who had a true passion for volunteering around the world in meaningful projects. The company has a number of amazing volunteering programs in Thailand – are you ready to see what they are? Let's go!
Top Programs in Thailand
Are you a native English speaker and passionate about helping children and seeing them progress in the world? This is a pretty top-notch program located in Chiang Mai, an exotic and artsy town in northern Thailand that involves working directly with at-risk children. The area of Chiang Mai is located near the extremely poverty stricken area where ethnic minority villages live who suffered at the hands of conflict with Myanmar, and as a result there are a lot of troubled families sendind their kids to childcare centers. As a volunteer, you will be looking after the children at childcare centers helping vulnerable children have the necessary care they need to lead a positive life.
Are you someone who is passionate about teaching and helping students in schools in Chiang Mai in northern Thailand? There are a number of schools in the area that are suffering from low staffing levels and limited funding. As a result, the students don't get the type of time and attention they deserve. What can you do to help? Well, as someone who is fluent in English, you can make a valuable difference simply by showing up and talking to these kids in conversational English. You can help them improve a language and skill that will greatly improve their chances of future success. So, what are you waiting for?
Are you someone who is very passionate about the welfare of elephants? Have you always wanted to spend time with them? It is a sad but well-known fact that elephants in Thailand are an endangered species and have sadly been very badly mistreated by the country's unrelenting tourism industry that used them for labour and entertainment. These elephants are often left traumatized. Luckily, the lives of young elephants have a more promising future in this elephant nursery that Love Volunteers is partnered with that cares for young elephants to ensure they have a better future than their parents and/or grandparents did. You'll spend your days looking after young baby elephants, feeding them and taking them for long walks in the jungle (not riding them though!). Could you think of anything better?
Are you a medical student or a healthcare professional looking to enhance your CV, broaden your medical knowledge and also your future horizons? Love Volunteer's medical internship is something a little different from the other ones listed so far, in that you would be working public and private full-service hospitals in Bangkok. As the hospitals in Bangkok are completely modernized and advanced and comparable to western hospitals, this is actually a really incredible experience to enhance and develop your understanding of proper medicine. You truly will get a chance to go behind the scenes and see what the life of a full-time doctor in Bangkok is truly like. No doubt you will also learn a tremendous amount and find some time to travel to other cities and beaches during your time off, or after your internship.
Love Volunteers has a number of other amazing volunteering experiences in Thailand to consider, such as teaching Buddhist monks at temple schools in Bangkok or Chiang Mai, Women's Empowerment programs in Chiang Mai and of course, if you're not into sticking to Bangkok, a medical internship in the beautiful city of Chiang Mai. The previously discussed education support project previously above is also available in Bangkok, and you'd be stationed at local schools there to truly make a difference teaching English.
Reviews
Love Volunteers has some of the best reviews as volunteers really appreciate the amount of time, care and authenticity that goes into planning every one of the company's volunteering projects, with its Thailand projects having no exception. The number of positive reviews about Love Volunteers is high, with the company receiving a 91% 10 out of 10 rating on Go Overseas and a 9.65 out of 10 rating on Go Abroad. See what one happy volunteer had to say about their Thailand volunteering experience:
The project was far beyond what I had expected. During my medical internship programme, I spent three weeks in the department of cardiology of Somdech Phra Pinklao Hospital, Bangkok. Marco
The Fee
The prices of Love Volunteers' programs in Thailand are highly affordable, with prices starting as low as $559 USD for two weeks and not going to far above that. All of Love Volunteer's programs remain below $1,000 USD for the first two weeks, which is great.
Why We Choose Love Volunteers
Love Volunteers hand down has some of the best and glowing reviews by happy volunteers who seem genuinely fulfilled by their experiences. With the prices of the programs being so low, and the reviews being so great, we had to include the organization's projects in this list.
Frontier (USA)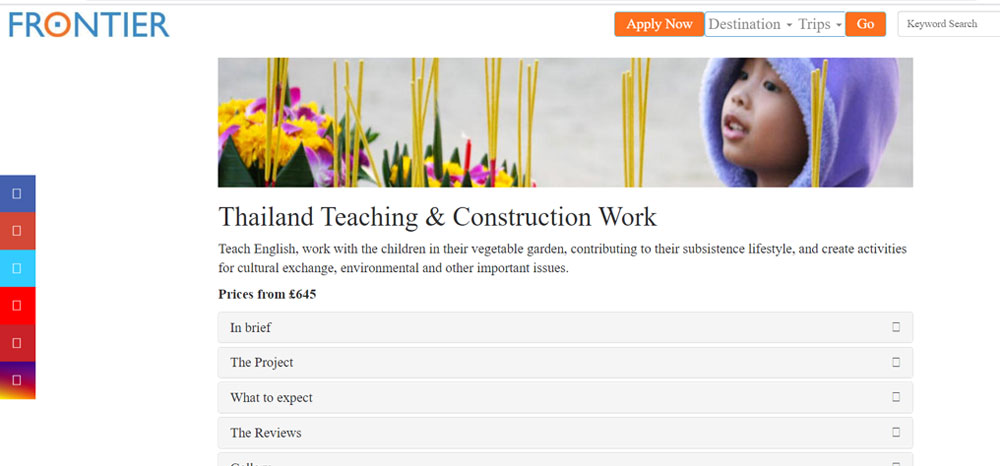 Location: UK
Established: 1989
No of Volunteers/Interns: volunteers of more than 30 nationalities take part in projects
Location & Projects: 70 countries over 400 programs
Recognition: Only gap year organization to offer BTEC qualifications, trained over 600 host-country university students, fisheries and forestry officers, community representatives and teachers, produced hundreds Biodiversity Research
Frontier is one of the oldest organizations in the game when it comes to reputable international volunteering providers. Started in 1989 in the UK, the organization has consistently continued to pair international travelers with the right volunteering opportunities. Frontier's very first projects started in Tanzania as a partnership with the WWF and has since continued to create one-of-a-kind programs throughout its staggeringly high number of 70 countries across the world. With over 400 projects to choose from, volunteers are definitely not spoiled for choice, and this most definitely applies to their programs in Thailand. Let's take a look at them, shall we?
Programs in Thailand
Are you someone who is deeply passionate about teaching English to rural communities, and also helping such communities develop their infrastructure? In this amazing program by Frontier, you'll not only be involved with teaching kids English in the rural communities of Sing Buri and immersing yourself in Thai culture, but you'll also be in the great outdoors working in the vegetable gardens or helping with other construction projects that would only prove to improve the areas local schools.
This is an amazing opportunity for the animal lover! You will be working at a local zoo in the province of Kanchanaburi. You'll be helping support local staff that are 100% committed to improving the welfare and lives of animals in the surrounding park while also educating people about the manifold benefits of responsible tourism. Does this sound like something for you?
This is truly a program that is designed for people who can dive well and also want to learn and explore the possibilities and realities of coral reef conservation in Thailand, and perhaps beyond. Here you will be spending time in Koh Tao with a local organization, known for its pristine coral reefs and amazing marine life. You'll learn firsthand about what conservation is all about.
Are you someone who is deeply passionate about improving the plight of the endangered sea turtle? Do you think an experience learning about the conservation of these amazing creatures in Thailand would be of interest? In Frontier's amazing Thailand program, you will get to unite practical conservation efforts with extensive conservation training and educational workshops in the local community in a great attempt to protect and conserve the beautiful and mysterious sea turtles living in Thailand, most notably the Olive Ridley turtle.
Reviews
Frontier is one of the most longest serving volunteer providers in the world and has, as such, garnered some incredible ratings and a stellar reputation over the years. The company receives an 88% 10 out of 10 rating on Go Overseas and a further 8.81 out of 10 rating on Go Abroad, which are perhaps not as high as the other providers, but is still pretty solid nonetheless. The company has 1000+ reviews across both platforms.
The Fee
Frontier's programs in Thailand are reasonably affordable, starting at as low as $895USD, and this is for the elephant program. Although not as low as some of the other providers, the rates are still competitive and worth considering. To check out more prices, click here.
Why We Choose Frontier
Frontier is one of the oldest players in the game and offers an interesting and diverse projects in Thailand and throughout the world. It would be unnatural to not include them in this list, although we do admit the number of negative reviews they have received are far more notable than all the other top-rated providers on this list.
Other Honorable Mentions
Working Abroad offers volunteering abroad and voluntary work opportunities in over 150 countries globally. Working Abroad, since its establishment in 2003, has helped Over 18,000 Volunteers yearly. There are an assortment of volunteer in Thailand opportunities available with Working Abroad including teaching English, community development and other opportunities.
Globalteer was established in 2006 to connect volunteers to their destinations safely and at a reasonable price. Since then they have helped over 2,000 volunteers travel abroad, and by doing so they have built a reputation for reliable service and outstanding experiences.
Globalteer focuses on reliable volunteer in Thailand and elsewhere, guaranteeing that help will go where it is needed most, so that volunteers will always be a part of a lasting solution. Globalteer strives to help shape a world in which human and animal suffering are diminished and the future of the planet is safeguarded.
Globalteer focuses on assisting responsible and sustainable projects in community growth, wildlife rescue, and environmental conservation. Since 2008 Globalteer has placed over 2,000 volunteers at selected community and wildlife projects in SE Asia and South America.
Pod Volunteers is a non-profit organization that has arranged ethical and verified volunteering opportunities worldwide since 2001. Pod Volunteers was founded in the UK to offer a connection between small charities and other organizations in less developed countries with over 600 people each year looking to do something beneficial abroad.
They aim to relieve poverty while improving education, health and living conditions of disadvantaged communities, protect the environment through research and conservation projects and Improve care for animals in need.
Established in 2001 in Guilford, CT, GeoVisions understands the value of the experiences these opportunities bring to the lives of everyone in the host community. Their goal isn't to just be among the cheap volunteering organizations in Thailand, but to provide trustworthy, affordable and quality services to its participants.
GeoVisions is dedicated to helping people cultivate global skills to be successful. Encouraging the valuable skills will ultimately result in greater cooperation and opportunities among nations and people of the world. GeoVisions respects its participants, supporting each and every one to reach their individual and collective goals.
Openmind Projects was launched in 2001 in Thailand. Its goal is to fill the knowledge divide wherever assistance is required most through their Thailand volunteer projects in rural places where schooling is poor and resources are rare. Openmind Projects is also a non-profit NGO. In addition, ecotourism presents an increasing opportunity for those residing in rural areas to differentiate their income and to safeguard vital wildlife and habitats.
The international volunteer organization Travel to Teach was established in 2002 to help reach volunteering opportunities abroad. They offer cheap volunteering opportunities in Thailand along with other places. Travel to Teach is an international volunteer organization that connects volunteers worldwide with grassroots community projects in South East Asia and Central America. They work to lower fees and offer inexpensive programs, while managing a closer contact with the volunteers, the local folks, and the projects. The chief focus is on English teaching.
Starfish Volunteers was established in 1990 and since has served Over 6,000 Volunteers looking to make a difference. By encouraging community growth, development and education, many volunteers are left with great memories and amazing experiences while volunteering in Thailand and elsewhere. Overall, Starfish Volunteers has a grade A rating for its volunteer programs.
Founded in 2006 in the UK, Original Volunteers receives excellent reviews on both Volunteer Forever (5/5) and Abroad Reviews (8.2), though there's still less than a hundred reviews, keeping them off our main list.
Friend for Asia is a local company for volunteering in Thailand programs. Founded in 2007, they have a 9.6 on Go Overseas and 7.3 on Abroad Reviews
Projects Abroad, founded in the UK, is an excellent volunteer provider that has a huge number of reviews across the sites of Go Overseas (9.2/10), Volunteer Forever (4.6/5), Trust Pilot (9.4/10) and Go Abroad (9.45/10).
New Hope Volunteers, founded in 1998 in Texas, is partnered with RCDP which featured on our main list. They offer inexpensive volunteering and have a score of 8.9/10 on Abroad Reviews.
Volunteering Solutions offer some very interesting and inexpensive options for Thailand program at inexpensive prices. Their reviews are also great, with a 9.5 on Go Overseas and a 4.6/5 on Tour Radar.
Kaya is an excellent volunteer provider that focuses on cultural immersion and exchange to great acclaim, enjoying an 8/10 on Go Overseas and a 9.73/10 on Go Abroad.
Conclusion
As you can see, this article has clearly summed up the best and cheapest volunteering providers for Thailand. We hope this article has been of great help to you and that you will use it to help influence your future travels and volunteering expeditions to Thailand.
If you have already been to Thailand with one of these providers, would you be interested in giving us some feedback? Do get in touch!
If Thailand is not on your list for now, you might be looking for the best and affordable volunteer programs in Sri Lanka., India, Argentina, Cambodia, Tanzania, Ghana, Mexico, South Africa, Costa Rica, Brazil, Peru, Ecuador,  Guatemala, Uganda, Bali , Nepal and Kenya.
Other Related Articles
8 [Best Cheap] Medical Volunteer Thailand Providers for 2020
10 Best Cheap [Include Rates & Reviews] Thailand Volunteer Teaching English Companies 2020| Compare & Save
9 Best Cheap Volunteer in Thailand Child Care or Orphanage Providers For 2019
Leave A Comment: